Katoomba High School 1967 & 1968
1967&1968 Class Photos
khs 1967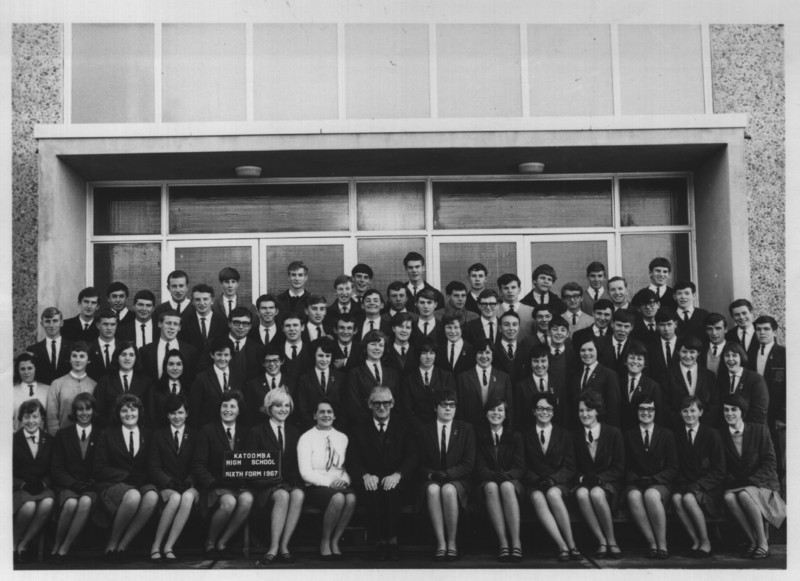 Left click to view a full size image or right click and 'Save Target As' to save the full size image on your computer
Back Row: Manuel Patty; Derek Wagstaff; Greg Pullinger; Alistair McDonald; Ross Birney; Ian Morey; Damian Grace; Lance Robertson; Stephen Catto; Paul Horne.

Fourth Row: Ian Parkhill; Col Gellatly; Campbell Thomas; Robert Stroeve; Peter McQueen; Reg McFarlane; Campbell Gorrie; Dave Chapman; Greg McKay; Russell De Groot; Don Nicholson; Evan Williams; Russell Skeen; Andrew Richardson; Kevin Allen; Pat O'Connell; Tony Egan; Ian Inglis; Laurie Moran.

Third Row: Max Smith; Paul Talbot; Dave Brown; Mike Vale; Richard Parkinson; Kim Murphy; Janet Richardson; Beverley Kirton; Mark Michael; Michael Jensen; Arthur Mills; John Holloway; Keith Duncan; Peter Picken.

Second Row: Janine Hitchens; Jose Obbens; Colleen McCann; Christine dos Remedios; Pam Blick; Lois Giles; Marilyn Lewis; Narelle Brownjohn; Roslyn Harris; Pat Rook; Colleen Chick; Diane Hood; Lesley Grimley; Kerry Fair; Robyn Hatswell.

Front Row: Marcia Condie; K. O'Brien; Margaret Henderson; Kathleen MacPherson; Carol Pereira; Ursula Ciastkowska; teachers; Maureen Cardwell; Georgina West; Shane Hodgkinson; Jan Saunders; Wendy Masters; Morag McGregor; Gillian Thompson.

Absent:Cathy Burrowes, Rick Hanna
khs 1968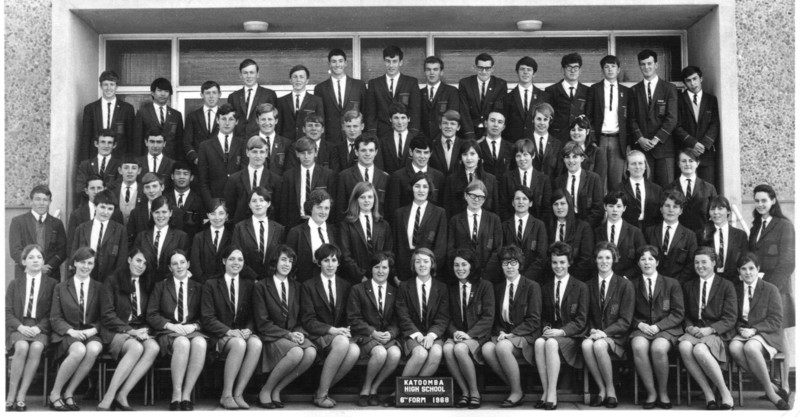 Left click to view a full size image or right click and 'Save Target As' to save the full size image on your computer
Back Row: Phillip Emerson, Gordon Lai, Robert Stanborough, Robert Bennett, Paul McPhee, David Lawson, David Hey-Cunningham, Tony Smith, Barry Clark, Grahame Lee, Tony Egan, Ian Collin, Lionel Etheridge, Manuel Patty.

4th row: Kim Murphy, Ian Fraser, Geoff Williams, Patrick Timbs, Ian Bailey, Ken Newton, Chris Murphy, Frank Ficyk, Mark Michael, Jeanette Smith, Anne Toohey

3rd row: Ron Lawler, Michael Jensen, Tom Hodson, Edward Young, Greg Woodward, Warren Gee, Charles Lark, Hans Drielsma, Hilda Ventrillon, Pam Deacon, Jennifer Hood, Barbara Carter, Geraldine Duncan.
2nd row: John Lavis, Kerry Fair, Margaret Bennett, Pam Loveday, Sharon Connors, Sandra Holt, Sue Greaves, Jeanette Wilson, Gail Stokes, Carolyn Benbow, Dawn Bignell, Anne Donnelly, Christine Gabriel, Judy Baker, Jennifer Holland.

1st row: Sandra McKay, Margaret Burrows, Meg Hart, Beverley Halls, Janet Watts, Jennifer Tymmons, Carolyn Walker, Robyn Simpson, Beverley O'Brien, Lynette Trow, Lorraine Gillies, Nanette Griffin, Marguerite Kramer, Robyn Fogarty, Janet Bowman, Gillian Parsonage.

Not in the photo: Bill Bunting, Glenys Grainger, Beverly Pringle, Cheryl Cook, Ruth Whitelaw, Sandra McDonald