Katoomba High School 1967 & 1968
News
55th Reunion 2022
Reunion in Katoomba
It's been suggested that 2022 deserves some recognition for the KHS 1967 year. The 55th. It's difficult to think back that far.

But if we're going to do it, without rushing too much, now is the time to plan for it. The 55th Reunion, in 2022

We're thinking Saturday 19 November, and Sunday 20 November 2022.

Initial thoughts are that we have a long lunch in Katoomba, removing the necessity of staying overnight up there, and also have a quite probably smaller dinner in the evening with other events as yet undecided on the Sunday. The dinner and the Sunday for those who will be staying there, especially those from interstate, and by then maybe from overseas. The main event being the Saturday lunch.

Perhaps we also set up a permanent zoom session as well for those who can't be in Katoomba.

It's all yet to be finalised.

For those who've not received an email, would you let us know a yes, no, or maybe, and if you have any good ideas or suggestions also let us know. And information of any others who have changed email addresses would be helpful. To Paul at paulhorne@internode.on.net


Get-together 2020
Get-together in the time of coronavirus
For most of the 2020 year in the time of coronavirus it was unclear which states would be open and what restrictions were being imposed; if people could get together outside their homes, how many would be allowed to, how far apart would they need to be, would they need to be seated only?

By October it was thought preferable to forget 2020 altogether and cancel both the year and the get-together for the year.
By late November the states started to open up again, with the exception of Queensland.

With New South Wales open again, those living there at least could meet, so Col Gellatly organised lunch at the Commodore for Saturday 5 December at 12pm.

Pictured, from the left: Col Gellatly, Dave Chapman, Reg McFarlane, Pat de Groot, Georgina West, Urszula Dobrzynski, Russell de Groot, Kim Murphy, Dave Brown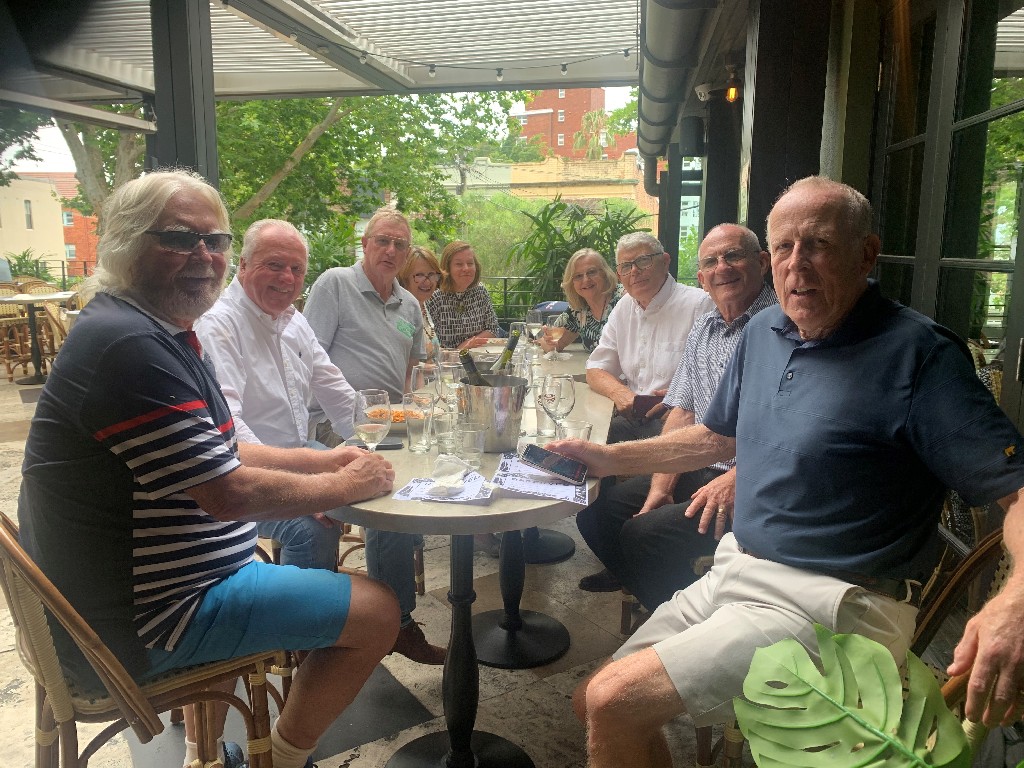 Betty Price funeral
Reg McFarlane, Kim Murphy and Narelle Anderson represented KHS at Betty Price's funeral
From Reg: Kim Murphy, Narelle Anderson and I were privileged to represent KHS Class of '67 at the farewell of Miss Price. Miss Price's funeral was a simple and dignified affair. It was at the Goulburn's St Saviours Cathedral where she was an active parishioner involved in many aspects of church life including the choir and became a quite accomplished organist. The eulogy described her love of education and of travel describing her sense of adventure to places such as Antarctica and several to Nepal including Everest base camp. She was laid to rest at the Lawn Cemetery and the weather was very reminiscent of many of the winter assemblies we experienced at Katoomba. There was a small social gathering afterwards where we were privileged to talk to some of her relatives, friends and colleagues.
Evan Williams was also at the funeral. He attended the service in the Cathedral but not the other events as they were concerned about numbers. In Evan's words "I thought the service particularly moving, it gave a complete view of Betty's life, before and after KHS, and reinforced the view most of us had; she was a very special person and we were privileged to have crossed paths with her."
Order of Service:
...Reg M
Vale Betty Price
Betty Price died on Friday 12 June 2020 at 4pm
Betty Price died on Friday at 4pm in Goulburn after a short illness. She was 80 years old.
The funeral will be at St Saviour's in Goulburn on Monday 22 June at 11am.
It will be a private funeral but the organisers have reserved a place for two KHS people if we can be there. If anyone can, given the limited places, would you please organise it through Ron Gardner at rgardner@sr.rbe.net.au
Ron has put together a eulogy, below, that will be read at the funeral.
Tribute for the Late Betty Price
From her Katoomba High School Students 1962 - 1967
Sadly, last Friday, we learned of the passing of Betty Price.
We were the class of 1967 of Katoomba High School and Betty was one of the teachers who took a group of young students from their first day of high school in 1962 to the threshold of tertiary education and adult life in 1967. We were indeed fortunate to have been educated by some very good teachers and Betty was one of the best. She took her responsibilities seriously and was truly professional in her chosen career.
Betty and her teaching colleagues left us with benefits which have stayed with us throughout our lives, and while we may not have always appreciated their efforts at the time, we now all know that their dedication to our education meant that most of us were able to enjoy successful careers.
Betty's teaching career started at Moruya High School and after a couple of years she transferred to Katoomba High. After about 6 years at Katoomba she requested a transfer from Katoomba to a remote country high school so that she could be eligible for promotion in a shorter time. This resulted in a posting to Broken Hill High School. After Broken Hill she transferred to Goulburn High School where she remained for the rest of her teaching career.
Betty described herself as dedicated classroom teacher who enjoyed teaching much more than administration. Teaching for Betty was a pleasure and a privilege. She loved working with young minds and teaching was what she always wanted to do. She never regretted her decision to pursue a teaching career.
She didn't just enjoy teaching, but she loved learning as well. She continued to study, both throughout her teaching career and after. She studied through the University of New England finishing up with a Masters degree in Italian Literature.
Betty loved music and had sung with various choirs and musical societies although, like all of us, age took its toll, and her singing voice slowly deteriorated. To compensate, and to keep involved with her love of music, she took up studying the church organ which she found fascinating.
She loved traveling both throughout Australia and overseas. She had a particular fondness for Nepal which she visited many times. She did a lot of trekking in Nepal and in 2007 she trekked to the Mt. Everest Base Camp. Walking through the French countryside was another of her pleasures.
After Betty left Katoomba for Broken Hill our class gradually lost contact with her, but an upcoming reunion in 2012 saw us make an extra effort to locate her. Using every resource we could think of we finally tracked her down to Goulburn. With very little effort we were able to convince her that being "guestof honour" at our school reunion would be something that she should do. Once Betty had agreed to join us, a notice was sent out to all our classmates announcing that she would be part of our celebrations. To quote Paul Horne, our co-ordinator, "Betty's attendance brings a new dimension to our use of language for the night. I fully expect to be corrected and brought to account. But that's the price we're more than happy to pay" Betty had a great sense of humour and this made her laugh.
Betty joined us again for our 2017 reunion and, just as she did in 2012, she took every opportunity to take an active part in making the night a success. Betty taught so many students during a long and distinguished career. We know that she was held in high regard by those who benefited from her dedication and professionalism. But irrespective of the claims of others who were fond of her, we, the Katoomba High School class of 1967, claim her as our own.
Betty, you made us what we are today and I think you are able to see that you didn't do a bad job of it. Sadly we now say goodbye. Thank-you from each and every one of us. Rest in Peace.
.. Ron Gardner, 13 June 2020
News on Betty Price
Betty Price moves into Goulburn town
After a text from an old friend of Betty's, who hadn't heard from her in some time, she was tracked down to a retirement home in Goulburn
In the process of worrying if she was fine and not lost, as we're aware she could have been backpacking in some remote part of Nepal, we learned that she is an accomplished organist giving time to St Saviour's cathedral in Goulburn and that she has a lot of friends at Goulburn High School, all of whom were concerned they'd not heard from her
...PH
Get-together at the Commodore Hotel in North Sydney
Commodore Hotel 30th November 2019
The annual get-together on 30 November met for another year at the Commodore Hotel in North Sydney
This was a quieter affair than for 2018, with the absence of Russell & Pat de Groot, Ron Gardner, Paul Horne and Lance Robertson.
It was improved by the addition of those who haven't been regulars to these events, however. So those who were missing were easily replaced by some future regulars.
As usual David Chappo makes a grand and late entrance. So Colin G and David didn't get there for the one photo. And somehow Campbell Thomas managed to miss the photo.
...PH
Tasso Tricos, Narelle Anderson (Brownjohn), Damian Grace, Wendy Bugeja (Masters), Ian Morey, Pat O'Connell, Colleen Chick, Irene O'Connell, Urszula Dobrzynski (Ciastkowska), Max Smith, Chrissie, Phil Young, Rick Hanna, Carol Isaacs (Pereira). Missing: Campbell Thomas, David Chapman, Col Gellatly
Get-together at the Commodore Hotel in North Sydney
Commodore Hotel 24th November 2018
The annual get-together on 24 November met for another year at the Commodore Hotel in North Sydney and then moved on later to a Thai Restaurant just down the road.
There was a party on the night before in one of the rooms at the hotel where most were staying. That was something I missed out on, so presumably much alcohol was drunk and it became another untidy night.
A few regulars at these get-togethers were away, overseas mostly doing better things, but it was still a good turnout with a newcomer in Tasso Tricos. Tasso didn't finish high school in year 12 at KHS as he had to move to Sydney with his family, but he was remembered fondly by everyone. And he seemed to settle in well, so we hope to see more of him in the future.
As usual David Chappo makes a grand and late entrance. Col G couldn't make it on the day but was at the hotel the night before.
One person, with one task to do, managed to book the Thai Restaurant for us all but it was the wrong one next door to the one we were meant to go to and to which we all went. One restaurant waiting in vain for a large party and one restaurant having to prepare for a large party that came in unexpectedly. Did that person make a special trip the next day to the unrequited restaurant? Only guessing.
This year I left my camera behind, so just a few photos from my mobile phone.
...PH
Betty Price 2015
Ron Gardner visit to Betty Price 2015
Paul
Now back from my visit to the Mountains and Canberra.
Took the opportunity to have lunch with Betty Price as I passed through Goulburn A most delightful lunch with Betty in fine form. She asked me to pass on her best wishes to all her students from KHS.
She is really touched that we remember her with fondness and as a good and dedicated teacher.
During our chat she was laughing about the boys in our year who thought that nylon shirt pockets hid cigarette packets from the view of teachers. I countered with an observation that if we really needed a nicotine fix all we had to do was knock on the main staff room door during the lunch hour. She agreed and told me that there were many frank and open discussions with her smoking colleagues about the air quality in the staff room.
As we know, she is a keen walker and last weekend she was heading off to the south of France for a walking holiday for three weeks.
I have attached a photo that I took of her as I left for Janine Mahoney's place in Canberra.
Ron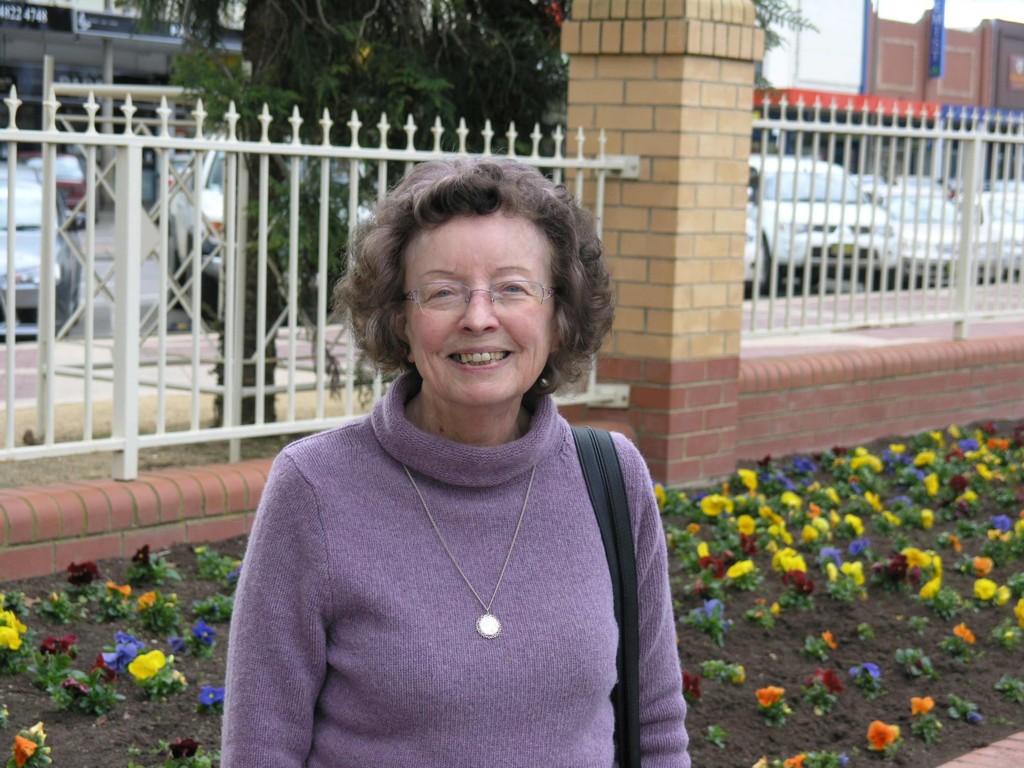 Vale Nigel Hastings
Nigel Hastings died on Sunday 16th August. According to his wife, Jacquie, it was a peaceful death at Martyn Clever Aged Care in Leura. He had only been there for four days and Jacquie said that the staff were very kind and compassionate.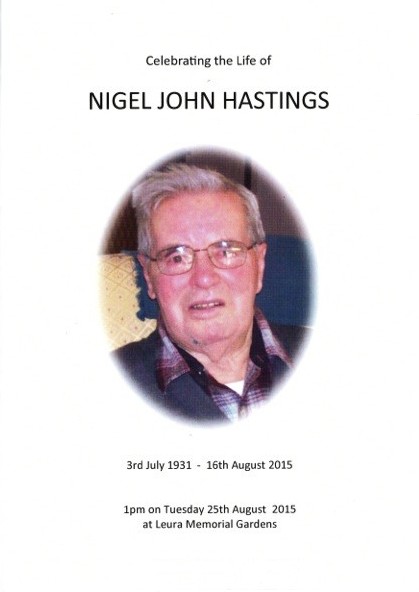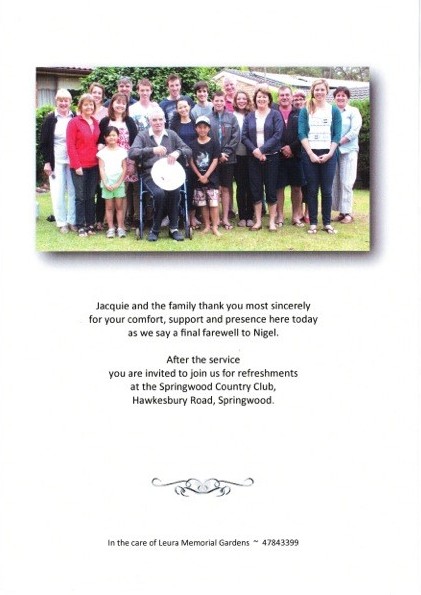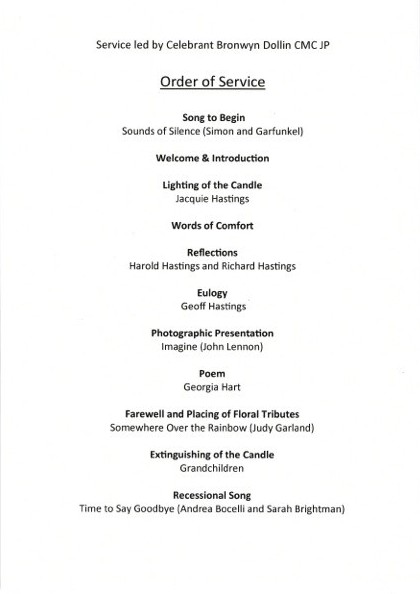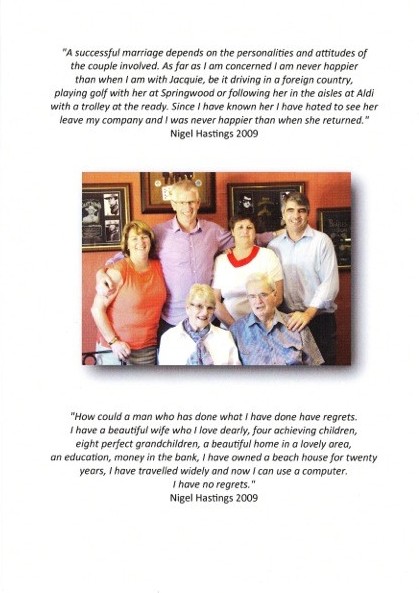 Nigel Hastings' Eulogy
Dad loved the outdoors, sport, particularly soccer, he taught himself to play the piano and electric organ, possessed an eclectic mind and a deep interest in the broader picture of life, politics, learning, astronomy, travel, and the environment. He developed a passion for Geography at an early age, particularly physical Geography, had a wonderful sense of humour and an interest in and knowledge of so many things including flight, whether it be World War II planes or travel into space. This is our Dad's story.
Nigel John Hastings was born at the height of the Great Depression in 1931, the eldest son and third child of Millie and Warren Hastings, into a family that grew to seven children, Winnie, Millicent, Jean, Janet, Nigel, Harold and Richard.
His early years were spent in Biggenden Queensland, but he then moved to Harbord NSW with his mother and siblings while his father tried to find work as an assayer at the mines. Nigel's father's work took him away from the family for long periods in his early years. At Harbord Primary School Nigel's was always a conscientious student and high achiever. Unfortunately a move to Manly Primary School and an incident where he was caned in his first week after having four spelling mistakes had a significant and long term effect on Nigel, his attitude to schooling changed and his grades deteriorated. He consequently left school at 15, trained as a wool classer and worked for a wool buying company in Pyrmont, Sydney.
Living near the beach, he developed a deep love of the surf, was a fantastic body surfer and loved getting out in huge waves. He loved and had a go at all sports but especially anything involving a ball and the outdoors, soccer was his chief love.
Dad always had a deep devotion to his mother, Millie, and often spoke with admiration and love for the way she kept the family together despite their lack of money in the early years. This was evident in his retirement when he would travel down virtually every Wednesday, which was Mum's golf day, to visit her in the nursing home at Manly.
The single most important event in Nigel's life occurred when he met Jacqueline Walters playing tennis, however he always said that he really met her one afternoon on the Manly Ferry, the Dee Why, when he sat next to her in 1954 on his way home from work and she was returning home from Sydney Teachers' College. From that day, a strong friendship grew between Nigel and Jacquie, turning into deep love.
Nigel was acutely aware of his lack of formal education so, while continuing to work during the day, he decided to study for his Leaving Certificate at night school, gaining entrance to Sydney Teachers' College, where he trained as a primary school teacher.
Nigel and Jacquie were engaged in 1955 and married on the 6th January 1956. Jacquie worked as a PE teacher while Nigel continued to study. He earned extra money operating the Ghost Train on the Manly Amusement Pier on weekends and holidays. All this was complicated by the unexpected but welcome arrival of their first child, me, in October of that year.
After graduating from Teachers' College, Dad was appointed to Balgowlah Primary School, and then decided to do his country service by taking a position at a one teacher school. With newly born Geoff in their second hand Austin A 40, Dad and Mum set out for 5 years at Yarrabandai west of Parkes NSW in a One Teacher School,. Then, road and living conditions were very primitive. The school residence was less than basic, the roads in and around Yarrabandai were heavily corrugated dirt and there was only one small general store within 50kms.
Typically Dad showed a great passion for his teaching job, as well as a determination to make a success of the five years spent in this isolated spot. He bought two cows for milking, purchased a sheep from a farmer each fortnight to slaughter for the family's meat supply. He dug an 8 foot deep toilet pit through heavy clay soil at the school residence and earned extra money by driving wheat trucks and sewing wheat bags. There were many adversities at Yarrabandai - drought, dust storms, mice plagues, grass hopper plagues and a flood. He, however, found time to travel miles each winter weekend to play his beloved soccer.
Despite all of this Dad would always put a positive spin on the experience of living and working in an isolated western village. In his fifth year at Yarrabandai, he started an Arts Degree by correspondence with Armidale University, majoring in Geography and Economics. Recently Dad googled Yarrabandai and recalled the many landmarks and friendships he had during those five years. He always looked back on his time at Yarrabandai with affection.
By the time Dad and Mum left Yarrabandai they had four children with Joanne, Ian and Jenny joining Geoff in the Ford Zephyr. The family moved to the Blue Mountains in 1962, and built a home at Faulconbridge.
With four children crawling under his feet and climbing on top of him in family wrestling matches, Dad continued to study while he taught at Blaxland East Primary School. On the completion of his degree he transferred to Katoomba High School and taught Geography and Economics. He was very proud of the fact that in his first year of teaching Geography for the Higher School Certificate he gained a first level grade for all but one of his students. Dad loved teaching, especially working at Katoomba. He enjoyed the travel each morning and afternoon with his 'car club' colleagues and made lasting friendships with teachers and students who attended the school. Some of those students are here today. He wanted all young people to like school, enjoy learning and share his passion for Geography. No family trip was complete without a running Geography lesson from Dad. Those taught by Nigel will probably have found themselves identifying U shaped valleys, cirques and hanging valleys in the landforms of Tasmania, New Zealand or Norway.
After 8 years at Katoomba he accepted a promotion position at Rooty Hill High School as the Subject Master of Social Science.
Dad showed dedication and commitment to all his life's ventures. He was Social Science Master at Rooty Hill for eight years and then accepted the same role at Colo High School for another 8 years, where he remained until his retirement from teaching in 1988. Dad loved his role as the Master in charge of Social Science and once again made lasting friendships with colleagues and students at these schools While at Colo High School, Dad and Mum built a house at Winmalee.
During his time on the Blue Mountains, Dad thrived. He was a playing member at Springwood Golf Club for 45 years. When there was no existing soccer club for myself and Ian, he got together with other like minded parents and started Springwood Soccer Club. He was heavily involved in our sporting pursuits - as a soccer coach, cricket coach, umpire and just immaculate cricket scorer with Springwood Cricket Club. He was also a keen spectator at his Joanne and Jenny's sporting events. He was never a supporter to yell encouragement or say much but he was never less than encouraging after the match no matter how badly we played.
Some may remember him bowling over after over of his off spinners in the nets at Lomatia Park and he taught all of us how to play keep the soccer ball - him against the four kids in the dead end street at Faulconbridge. He made strong and lasting friendships with people he met at work and at recreation. He was a dedicated and heavily involved father who always wanted the best for his family and lived the adage "a family that plays together, stays together". This same philosophy extended to his commitment as a grandparent to his eight grandchildren - Mitchell, Madeline, Ashleigh, Stuart, Emma, Lachlan, Georgia and Adam. He adored them all and delighted in their achievements.
Everyone who knew Nigel, was well aware that he was a passionate traveller and holiday goer. He was an avid organiser of family holidays - to the snow to ski and to the beach in summer where he learnt how to learn to ride an enormous surf board. Both Mum and Dad were determined we would all be strong swimmers and he delighted in taking us "out the back" in the biggest waves and then pushing us on to them. At every beach, he always furthest out and the rider who caught the biggest waves.
There were family touring holidays in Tasmania and New Zealand with the inevitable Geography lessons. He also travelled to many different parts of Australia with Mum after we all left home.
During retirement, Dad's passion for travel grew. He and Mum travelled to North America six times and visited 45 of the 50 states of the USA. They also travelled abroad to Europe, Tahiti, England, New Zealand, South Africa and Samoa. It was, however, the physical geography of North America and his deep interest in NASA and space exploration that were a lasting passion. In later years he developed an enthusiasm for Astronomy, often being found late at night in the front yard with his telescope pointing to the stars.
Dad loved volunteering at the Springwood Golf Club and assisting the club with bush regeneration programs. Every Monday he looked forward to meeting up with his fellow volunteers, taking on the privot and blackberry as well as working to make the golf course look a little neater. He loved sharing a conversation with his fellow volunteers over a coffee at the end of the day. He developed lasting relationships with volunteers and sadly missed the outing once he become ill. He also loved it when you played with him and you sliced your drive on the old second and fourth or shanked it on the twelve so he could show you the piles of invasive weeds he had removed while you looked for your ball
Dad was a gentle, sensitive, modest, optimistic, remarkable man who added so much to the lives of those around him. His sense of humour delighted all. Any concern or situation could be lightened by his positive view of life and his ability to throw a funny comment into any conversation. He had the ability to make people grin, smile, sometimes groan, and often laugh out loud. Mum would say to him "you're a lovely man" and he would reply "I'm just me".
In the last 5½ years of declining health, Dad showed tremendous determination and courage. He never complained and always maintained positivity in his life. He had many loves but his overriding love was always for Jacquie, his wife of almost 60 years, his children and eight grandchildren. He was very proud of the fact that he was in touch with Mum every day of his married life, except for one - and that was when he was on a school excursion to Tasmania and isolated at Lake St Clair.
Dad's great gift was to show how things should be done by doing it himself in his own quiet way. He continues on, because those lessons are instilled in the four of us and have guided us in our lives. He showed us how to be a parent and a good human being. I know that we have passed that on to our children. He was a man of high ideals, intelligence, dedication, gentleness and determination. He had a deep love of the natural environment but most of all, a deep love of his wife and family. I know that he will still visit us deep in the night and offer words of encouragement and guidance. He was a very special person and will never be forgotten by those who knew him. He will be sadly missed.

50th reunion 2017
Planning for the 50th reunion is starting. We're looking at a reunion in Katoomba on the weekend of the 25th & 26th of November 2017.
For details look on the 50th Reunion page
Get-together at STC restaurant
18th April. We will meet the ladies at The STC Wharf after they have lunch at Dedes.
Annual end-of-year dinner
The annual social drinks & dinner will be at the Commodore Hotel on Saturday 28th November. Just turn up if you feel like catching up


Get-together - November 2014
Get-together - November 2014
Good turnout at the Commodore on the 29th November

With Georgina, Chrissie, Janine, Dave Brown, Dave Chappo, Col, Narelle, Ian, Lance, Lesley, Damian, Pat & Russell, Pat O'C, Urszula & Carol it was a spirited lunch at the Commodore followed by dinner for most at Kinn Thai just down the road. One long table away from the regulars in an attempt to keep then noise down.
Good choice, Damian.
Get-together - June 2014
Get-together - June 2014
The girls were getting together in Sydney so we made it an event

With confusion created about where to meet, a number of us - that being Lance & myself - bluffed it out and met where we'd originally planned, at the STC cafe. Good idea born out of laziness from both, just flown in from Melbourne. 'Stuff that for a joke, my turn or yours to buy another bottle?' Except others were upstairs at the STC restaurant.
Russell turned up. Then we started to wonder about the lack of that promised view at the cafe.
Ian Morey eventually, with encouragement, gave up on his idea of meeting in a pub up the road and joined us, then Ian & myself found the others - Damian & Reg - upstairs
Finally, when it suited them, we were joined by the women
Or maybe Col and Dave C joined before.
Anyway, we ordered more drinks, ordered food, talked a lot and the place emptied out.
And I bumped into Barry Otto coming out of the lavatories.
2012 Reunion update for 9th September
2012 Reunion - 45th
Update for 9th September:
The Final Email mailout
This will be the last email going out about the Reunion unless something unexpected happens.
As I mentioned in the last email we have a special guest in Ms Price. Many thanks to Ron Gardner for finding her and making arrangements for her to join us. I know I'll be very circumspect in my use of English on the night.
For those inspiring, intelligent, urbane, sophisticated, sensible and engaging people who've said they're coming, we'll need payment as soon as possible if you haven't paid already.
Details of previous reunions and past and more recent photos can be found at www.khs1967.com Those of you who can't make it but like to know what's happened, photos from the weekend will be posted onto the website some time soon after.
FRIDAY NIGHT
On Friday night, dinner at The Old City Bank Brasserie, 15-47 Katoomba Street (opposite the old Savoy Theatre - Railway Station Side of the Carrington - Upstairs). This is for Friday 21st September, with tables reserved from 6.30pm. They would like us to be there as close to 6.30pm as possible.
If you'd like to be there for the Friday night dinner we need to know as soon as possible, as seats are now limited, so please contact Russell de Groot on admin@prodive.com
GOLF
After advice from the resident pro in Katoomba, Jaffa Brown, golfers should be ready to tee-off at 12 pm on the Saturday at Katoomba Golf Club. Intending players should notify either David Brown (brown@bigpond.net.au) or Col Gellatly ( colgellatly@cgaa.com.au ) by Friday 21st September. There's quite a good turnout on the day showing a wide variety of skills from those who are good, those who think they're good and those who are, allegedly, hopeless.
HELICOPTER FLIGHT
I was intending to organise a helicopter flight on the Saturday - cot around the $120 each level if it's a full flight - if only to harass the golfers but ideally to fly around the more scenic parts of Katoomba - which is most of it really - but there seems to be a lack of interest. If you're up for it, please let me know directly (paulhorne@internode.on.net). It may be getting late to organise something so if you're interested please get on to me as soon as possible.
BUSHWALK
Carol Isaacs (Pereira) is hoping to get a bushwalk going on the weekend. Please contact her directly on either 02 96399509 or 0458399509 or carofe@bigpond.net.au Carol will have the mobile on all weekend but not at other times. Please let her know if you prefer a half day or full day [taking lunch for the latter] and if your preference is for a Sunday or Saturday walk. SUNDAY
Breakfast at Dave Brown's place with David Brown, David Chapman & Col cooking. At 167 Cliff Drive, Katoomba
SENTIMENTAL JOURNEY
Our Catholic refugees in the final years were organising a separate get-together over that weekend and I know of some people who wished to just go to that. So if that sounds good, let us know about that as well, please.
ACCOMMODATION
Rooms are also available at the Fairmont for $239 for 2 people or single rooms at $219, including breakfast, but they are pretty busy that weekend so you will need to book early to get a room.
Please organise accommodation yourselves through the Fairmont (Tel: +61 2 4785 0000 Email: reservations@fairmontresort.com.au <mailto:reservations@fairmontresort.com.au> or elsewhere in the area. Ask for Shannan Lane. Or mention the Reunion as there are special rates applying.
There are, of course, a lot of other places to stay in the Mountains.
We're also asking for those living on the Mountains who are willing to offer bed-space. For those in different cities who are thinking of driving let us know if you're happy to pick up some hapless soul down your way who would like a lift.
Glenis Stofberg (Kerkham) has an empty house in Winmalee so if any one would like to stay, they would be very welcome. Please contact Glenis directly on 0247542623.
SATURDAY NIGHT
For the evening of the 22nd September, we've agreed a rate of $120 per person. This includes a set two-course meal, a four-hour drinks package and some nibble-food before going into dinner. Please let us, or the Fairmont, know if you prefer a vegetarian dinner. All other drinks will be at your own cost.
Please pay either: By cheque to Col Gellatly at PO Box 56 ,Hunters Hill, NSW, 2110, or: By funds transfer: Please enter the Payee and Remitter Name fields sufficient to identify all of those the amount is covering - that is, make sure your surname is in their somewhere - and with 'KHS Reunion' as the description. The Account Name is Colin Gellatly, the bank is NAB, the BSB 082207 and Account Number 133392511.
Except for your accommodation, if you choose to stay at the Fairmont, please don't send the $120 for the dinner to the Fairmont. Some people did at the last reunion and it just confused us all, because we're just getting to that stage in life, really, so don't do it. If you do, you'll be outed. If you do decide to come you will need to: - Send an amount to cover the cost of the Saturday night, and - Organise your accommodation, and - Get there.
2012 Reunion update for 3rd July
Update for 3rd July:
In between a lot of us still working for a living or travelling about, details of more ex-KHS people are turning up. We now have sufficient numbers for the reunion to be financially viable for those of us organising it. That is, the reunion is a definite for the 22nd/23rd of September. Not everyone can make the dinner but there seems to be considerable interest in getting out on to the golf course.
We also now have Miss Price as a special guest for the dinner. It brings a new dimension to our use of language for the night. We fully expect to be corrected and brought to account. But that's a price we're more than happy to pay.
We're looking forward to finding out how well she's spent her life, which from what I gather has been and still is, a full and interesting one.
Thanks to Ron Gardner for finding her and getting her to agree to joining us.

It still amazes us that in a city as large as Sydney and in fact a country as large as Australia we could conceivably in some short order manage to account for nearly everyone. As someone said to us at the first reunion we had, the one that Kerry Fair & Kim Murphy organised, that it's reassuring to know we all turned out pretty good, and of those that didn't, they managed to do it in an interesting fashion. And he wasn't referring to anyone's capacity to accumulate wealth either. Someone else at the very last one we had, who hadn't seen many of us since leaving school, was surprised but reassured that we still held the same values but not now with the same arrogance.
We've organised this reunion, as in 2007, at the Fairmont in Leura. This venue is large enough to allow us to mingle with people who were old friends, discover people who should have been old friends, share experiences and memories, some that may have faded over the intervening years.
It's being reminded of something that was said or done that creates that 'no .... no way did I do that' moment that I still find catches up with me.
At that first reunion of Kerry & Kim's I really thought I'd pass on it. I had visions of a bad reunion movie coming at me with all that overt competitiveness and bad dialogue and boring people that one could logically expect, especially since I'd gone out of my way to avoid most everyone since we'd left school.
Well, I, and others found that we still shared many things in common and could look over the years with out being guarded or hesitant; that we had shared that common and at times traumatic experience was enough to call each other friend. We are all of us now of that certain age and very lucky to not have to suffer the indignities of listening to boring people. After almost half a century we have matured and have more sensitivity in our dealings with each other than was the case in the 1960s. Well, we had long before then, but this is to reassure those who felt the way I did at that first reunion.
As well, I know Russell de Groot is attempting to track down those of use who went to KHS but for various reasons weren't with us for part or all of those final two years, either by chasing a non-academic career, or moving schools or moving countries, or whatever. This would be good, so if any of you likewise know of people in this category, please let us know. And, of course, all partners are welcome.
Those we don't have email addresses for include:
Kevin Allen, Judy Baker, Carolyn Benbow, Robert Bennett, Janet Bowman, Barbara Carter, Colleen Chick, Ian Collins, Marcia Condie, Pam Deacon, Tony Egan, Phillip Emerson, Frank Ficyk, Lois Giles, Campbell Gorrie, Glennis Grainger, Sue Greaves, Roslyn Harris, Meg Hart, Robyn Hatswell, Jennifer Holland, Sandra Holt, Marguerite Kramer, Gordon Lai, Charles Lark, David Lawson, Grahame Lee, Laurie Little, Kathleen MacPherson, Mark Michael, Arthur Mills, Chris Murphy, Don Nicholson, Kristine O'Brien, Beverley O'Brien, Ian Parkhill, Richard Parkinson, Gillian Parsonage, , Russell Skeen, Max Smith, Jeanette Smith, Robert Stanborough, Robert Stroeve, Lyndsay Thew, Anne Toohey, Lynette Trow, Jennifer Tymmons, Carolyn Walker, Janet Watts, Jeanette Wilson
2012 Reunion update for 31st March 2012
2012 Reunion - 45th
Update for 31st March 2012:
The KHS reunion for 2012 has been organised at the Fairmont for the night of Saturday 22nd September. The cost for dinner for the night is $120 per person. This includes a set two-course meal, a four-hour drinks package and some nibble-food before going into dinner.
Rooms are also available for $239 for 2 people or single rooms at $219, including breakfast, but they are pretty busy that weekend so people will need to book early to get a room.
Attendees, please pay us in advance for the night (excluding the room that you will need to organise yourselves) through the Fairmont (Tel: +61 2 4785 0000 Email: reservations@fairmontresort.com.au ) or elsewhere in the area. We will send out an email later giving details of how-to-pay including an account to which you can transfer your payment electronically.
There will be Golf organised for Saturday at 1PM ... please organise through Russell de Groot ( admin@prodive.com ), and for others who have no wish to play golf, there will be something else organised.
2012 Reunion update for 27th Sept 2011
2012 Reunion - 45th
Update for 27th September 2011
A get-together was held in Sydney on Saturday 26th September.
The intention, as with the previous 3 years, was to meet at the Commodore Hotel in North Sydney.
As this was always intended to be informal, then no bookings were ever made and the last two years before this year we got turfed-out of the small room we'd taken over.
This year I turned up earlier than usual at 10.30 in the morning as I'd stayed in Kirribilli (coincidentally, next door to Pat O'Connell who was staying with his sister) the previous night.
I was in the pub,admittedly the first drinker for the day, about to order something and I'm told to leave.
The Commodore was robbed the night before and the publican didn't want to open 'until at least after 12'.
I told him there was a group of us, we've been here the same day each year for the last three years, I've flown in from Melbourne and that it was pissing with rain out there. He told me, to each point, he didn't care and just get out. That's when I started arguing with him.
The upshot was that I left and hung around the adjacent corner for the next two hours.
We'd decided, via phone calls, to migrate to the Kirribilli Club on Harbourview Crescent on Lavendar Bay. David Chapman organised it, which was great, and took over corner-watching for another half-hour.
We can only hope we didn't miss anyone. Apologies if we did.
We'll leave some contact numbers starting from next year.
From next year we'll start at a different venue and probably at a different time of the year as we were reminded, us city-folk, that November is a month during harvest-time, making it difficult for those from the country.
... PH
45th Reunion
45th Reunion

Over drinks at the Kirribilli Club, we were tossing-over the idea of doing something a bit more for next year, being the 45th reunion. Nothing too organised, nothing too dis-organised.
Nigel Hastings' 80th
Nigel Hastings' 80th Birthday: Nigel will be 80 on the 3rd of July 2011. Photo & email
Derric Ross
The website was set up for the graduating classes of the senior years of 1967 & 1968. It was originally an aid in getting the reunion happening.
But what of the people we spent years in school with, who moved on or left school to chase up early careers and didn't graduate in 1967 or 1968?
I was thinking of one particular character who would have been well known amongst the Katoomba to Wentworth Falls lot just recently and that was Derric Ross.
My last memory of him was of a figure in the distance up above the oval on the highway (don't ask me which one ... the one where we'd occasionally go on sports afternoons to play football - the oval is down from the road) dressed in his Army uniform as he would have just finished his training then looking down on us all as we were training, or whatever it was that passed for it.
And I distinctly remember him taking us all on a late night route march for being in a friendly brawl at Singleton or Holsworthy.
Derric Ross
From the Nominal Roll of Vietnam Veterans
Name: Derric Stephen ROSS
Service no: 243507
Date of birth: 8th September 1949
Rank: Sapper
Place of Birth: Katoomba, NSW
Corps: Royal Australian Engineers
National Service: No
Unit: 21 Engineer Support Group
Start date: 4th August 1971
End Date: 16th December 1971
The following is to be confirmed Derric as at 27th February 2010:
Source: http://www.wasappers.com/lest-we-forget.htm
(No date but adjacent to an entry for June 2005):
LEST WE FORGET:
Sadly another Sapper, Derric Ross passed away on Saturday morning. Derric had lung cancer and had been fighting it for sometime. Our sympathy goes out to Marg and children ... Don Cameron

Carol gets lucky
Carol Isaacs - a close call
Carol got sucked under a waterfall & lodged herself into some rocks - underwater. She had to be dislodged & resuscitated. Extremely careless of her but apart from all that she has a few bruises & things to remind her. This was back in February 2011. For a full report on this go to page 3 of this pdf file.
Vale Lee Bedford
22nd March 2011: Lee Bedford
Lee Bedford, our history teacher who attended our reunion, died on Tuesday 22nd March.
Nigel Hastings passed the news on to us, via Janine.
Dear Janine,
I received a phone call this morning from Paul McPhee in Springwood with some sad news. He got in touch with me to ask if I could say a few words at Lee Bedford's funeral service next Tuesday.
I was, and I still am, very upset at her passing as she was a person I liked very much and I feel very sad to think we will never see each other again. It seems she was diagnosed with cancer last October and that terrible sickness had its final impact on her life last Tuesday night.
She lived on her own at Little Hartley and died on her own on Tuesday night. It seems the grass-cutting man turned up on Wednesday morning to cut the grass and could not raise her. He looked in through the window and saw her lying on the floor.
The funeral is at Leura Memorial Gardens at 12.00noon on Tuesday, 29th March.
Janine, would you please send this email on to Narelle Brownjohn as I am sure she would like to be informed.
Lee was a very fine lady.
Love, Nigel.
For details of the funeral and of the eulogies, there is a Lee Bedford page ....
November 27th 2010 get-together
November 27th 2010 at Sydney

The third of the get-togethers at the Commodore Hotel at North Sydney. A quieter affair than in 2009 & one lacking in anyone willing to take photos - so, only two taken & they're remarkably similar.
Miss Price would not be impressed
Miss Price would not be impressed ...
Or ... How KHS has declined: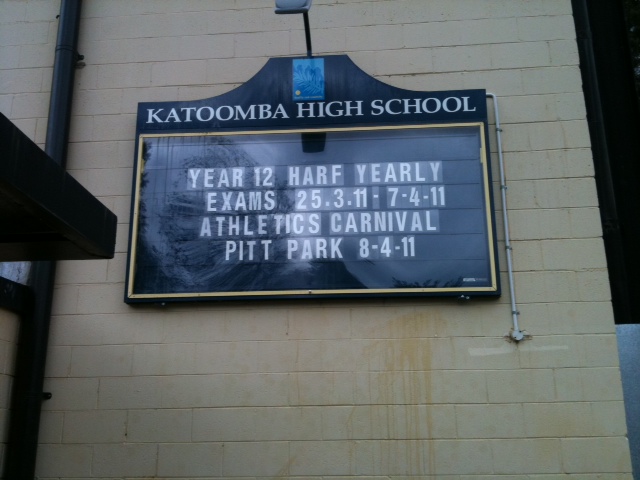 (With thanks to Carol Isaacs for the photo ...)
Nigel Hastings Oct 2010
October 2010:
Nigel Hastings has been quite unwell for some time. It's a long-term illness that's controlled rather than cured by medication. With the spirit typical of the man he maintains there are more things he is able to do than not do, so not someone to easily give in to what he would outwardly maintain is one of life's inconveniences. He is one of life's good blokes. May you, Nigel, if not get well soon then at least continue to enjoy your life.

Peter McQueen is a grandfather. Janine Hitchens a grandmother once again. Ron Gardner has been ill but now recovering well from surgery.
I have a DVD of photos taken at the 1969/70 Reunion, courtesy of Leigh Roden, if anyone is interested in some copies.

We have also recently heard from Eric Young who has been organising the 50th reunion for the class of 1960 which is being held on Wednesday the 3rd of November. He knows Col Gellatly from their squash-playing days and was also interested in the source of the School Song. Eric discovers that the school song was adopted on the occasion of the Centenary of Public Education in NSW, 23rd April, 1948.
Get-together 2009
November 28th 2009 at Sydney
A good turnout of people, some like Bev Kirton who hadn't made the 2007 reunion. Lots of talk, drink.
Bev Kirton
August 2009:
Bev Kirton gets in touch. Now known as Sarina Sharp so there's a story there. Bev will be at November's reunion at North Sydney.

Anna Patty's SMH article on KHS
Article courtesy of the Sydney Morning Herald
Tell me, where do the children play?
Date: June 1 2009
As principal for the day at her old school, Anna Patty discovers that some things change, and some just stay the same.
More than 20 years after doing the HSC I was back at school. But this time I was behind the desk normally occupied by the principal as "principal for the day" at Katoomba High.The real principal, Gail Ross, had invited me to return to the school I had attended in the mid 1980s. It was an opportunity to see how it had changed since producing its first graduates under the Wyndham scheme in the late 1960s.
Graduates of the year 12 school of 1967 and '68 - the first under the Wyndham scheme, included Richard Parkinson who went to work for NASA as an aeronautical engineer, Evan Williams, the Australian High Commissioner in Cyprus and Col Gellatly, the former director-general of the NSW Premier's Department. Inspired by dedicated teachers, many of the students became teachers.
The limited choice of schools in the Blue Mountains has meant that students from a broad mix of backgrounds have attended Katoomba High.
"It was a great mix. I was at a school with kids whose parents ranged from doctors to the dustman, to shop owners. You had high achievers - those who wanted to go to university - and those who wanted to get a job. The momentum of those who did well rubbed off on the other students," says Shane Hogan, the headmaster at one of Sydney's most prestigious Catholic schools, Saint Ignatius College, Riverview. Mr Hogan, who graduated from Katoomba High in 1976, believes the secret to a good education is a happy child. "Katoomba High was the happiest environment when I was there," he said. "I had a fantastic time there and try to get my staff to be as inspiring as the teachers who inspired me. "My English teacher, Graham Cullen, was the most inspiring person for me. He made me realise I had potential beyond getting a job locally." Mr Hogan laments the proliferation of selective schools and specialist sport and music schools, which have stripped talent from comprehensive high schools. In his day, the school's brass band toured Britain in 1975 and the rugby league team made the finals of the University Shield.
Katoomba High's student population has shrunk from 1300 to 600 students in the past 20 years. A "street" of about 10 demountable classrooms has also disappeared. The demographic has changed; there are fewer students in the mountains and more semi-retired professionals, treechangers and alternative lifestylers. Blue Mountains Grammar School's headmaster, Stuart Walker, said numbers at his school had dropped from about 750 to 650 in the past 20 years.
In the mid '80s some year 12 students from Katoomba High stole the Blue Mountains Grammar School sign and propped it on top of the school hall as part of a muck-up day prank. Now, the two schools plan to share a performing arts centre. Mr Walker said his school would build a $5 million centre. The Federal Government will provide about $2 million on the condition that the facility is shared with other schools.
"Katoomba High is part of our community," he said. Katoomba High will receive about $200,000 from the Government to extend the stage in its school hall.
The library also displays impressive student art works. Talented singers perform at the school assembly in the hall to mark public education week.
The school discos where students danced and "pashed" in the shadows during the '80s are no longer held in the hall. The Gilbert and Sullivan musical productions, a big highlight in years gone by, have also been ditched in favour of the Schools Spectacular. While talking to old teachers at the school, I learn that my dedicated maths teacher, Mary Blums, who always gave up her lunchtimes to explain calculus, retired in recent years. Not surprisingly, she still tutors students.
My English teacher, John Maddocks, a published novelist with a doctorate in English Literature from the University of Sydney, left more than 10 years ago after nourishing his students with sharp insights. He would start work before school hours to teach our three-unit class. We discussed how order could be found within the chaotic structure of Joseph Heller's Catch 22 and how sex was used as a weapon of control by the characters in David Williamson's play The Removalists.
The deputy principal, Frank Ranieri, started work at Katoomba High in 1978 when the school was crowded with 1300 students. I loved the bustling noise in the crowded corridors where comical antics and innocent fun took place. But now order reigns. The school is now like a "church hall", Mr Ranieri said.
"A child in those early days had to survive, which had it's good and bad points," he said. "My initial impression of the school, as I started teaching here, was chaotic compared to the level of professionalism that has developed now. "We now have specialised classes for students with learning difficulties. Before that they were all put in the mix. "The quality of the young teachers we are getting is unbelievable compared to when I first started."
The head history teacher, Geoff Atwood, who has taught at the school since the late 1970s, said its smaller size had brought improvements. "It allows you to offer a varied curriculum in years 11 and 12, but it is small enough to be personal," he said.
The school's distance from Sydney had largely "insulated" it from competition, putting less pressure on students. But it had also given some of the better students an inflated sense of how hard they were working compared to their counterparts in Sydney's top schools.
Like Mr Williams, who is based in Nicosia as Australia's High Commissioner in Cyprus, I remember the only teaching aids being chalk and blackboards with the occasional over-head projector. Today all the students have mobile phones and are more computer literate than their teachers. "Now, every classroom has computers, high-tech projectors and the most advanced whiteboard systems I've ever seen, and I've been in a few boardrooms in my time," he said. Mr Williams, who visited Katoomba High last year for a reunion of his 1968 year 12 class, said the school culture seemed more casual than it had in his day. The uniform standards were also less strict and the interaction between the students and teachers, less formal. "I suppose if it still allows talented students to excel and gives everyone else the chance to do as well as they can, then it's a good thing. But it was very different for us," he said.
Mr Gellatly remembers spending most of his time at school with friends and playing sport. He began to focus on his school work only in year 12 and was dux in 1967. He went on to complete a Masters of Commerce at the University of NSW and a Phd at North Carolina State University before starting work in the public service. Last year he was made an Officer of the Order of Australia for his services to the public sector. He said he was "proud to have gone to Katoomba High School" and was confident students could still do well in public schools.
Hans Drielsma, who was captain and dux in 1968, also has fond memories of Katoomba High. He studied science at the University of Sydney and graduated with first class honours in Science (Forestry) from the Australian National University, where he was awarded the university medal. He completed a Masters of Forest Science and a PhD at Yale University before being appointed managing director of State Forests NSW. He is now the general manager for Forestry Tasmania and his work takes him around the world. He serves on an international forestry standards organisation based in Geneva. Mr Drielsma met his musician wife, Nanette, at Katoomba High. She played Yum-Yum and he played Ko-Ko in a school production of The Mikado. "I owe a lot to the strong grounding at KHS which involved not just academic training, but also social development and introduction to adulthood in a supportive and relatively safe environment," he said.
Georgina West
Georgina West was difficult to find
I found Georgina West in an early Peter Weir short movie "Three To Go: Michael" which was on a DVD I ordered from New Zealand.
She plays Georgina, the girlfriend of Grahame, a character played by a pre-Aunty Jack Grahame Bond.
My sister may have met her then.
Following are some frames captured from the movie:
Reunion for 1969 & 1970 graduates
January 2009:
A reunion is being organised for the 1969 & 1970 graduates - please contact Leigh Roden, PO Box 50, Springwood NSW 2777, Tel: 0419 102 804 Fax: 02 4751 1431 ljroden@pnc.com.au
They're just starting out, have a committee going and will have their own website soon. Good luck Leigh & others.

Get-together 2008
November 2008:
Informal get-together for November 29th to be held in Sydney ...
Rather than to attempt to organise dinner in a city that I'm told has a well-developed problem with car-parking at the best of times, we're opting for lunch at the Commodore at 206 Blues Point Road, North Sydney; 2 minutes walk from North Sydney Station (website is www.commodorehotel.com.au)
Parking in the area, especially on Saturdays, is not too bad but is generally limited to 1 hour.
The Commodore doesn't take bookings on weekends so it would be helpful if everyone could get people there at or before 12:30.
And, personally, I'm hoping to be up for a repeat on the Sunday.
Looking forward to seeing you there

The Great Grange Reunion 2008
11th & 12th October 2008 at Canberra
The Great Grange Reunion
Back in October 2008 Ron Gardner and partner Sue headed to Mike Vale's home in Canberra for a short break. Mike organised a mini-reunion of ex-KHS inmates. The reunion was to be held over two days, with a small gathering at Mike & Trish's on Saturday night followed by a bigger gathering at the Canberra Yatch Club (.... I can't believe that Canberra, with a couple of converted farm-dams, is so up itself that it dreamt of a 'Yacht Club' ... as if they'd ever get lost at sea ...PH)on Sunday.
The Saturday afternoon/night get together included Mike & Trish Vale, Damien & Bernadette Grace, Cathy Burrowes & Peter Lyons and Ron Gardner & partner, Sue Robertson.
During the pre-dinner drinks on Saturday afternoon, Mike presented the group with a bottle of Canberra's finest wine in a presentation box which he intended to open and enjoy with the meal in recognition of such an important occasion.
Now, he forgot that he was in the company of a person from the finest wine growing area in the country. Canberra wine, as we all know, is made from squashed sultanas, cat urine and stolen South Australian water and consequently, the South Australian guest took up the challenge. With a cry of "I spit on your wine" a bottle of 1988 Grange was produced. Other guests then fell on their knees with cries of gratitude for being delivered from the terrors of the local brew.
The Grange was decanted, under the supervision of Damien & Mike, and a wonderful evening followed, with a superb meal being prepared by Mike and Trish. Great company and great fun.
On Sunday we all met up at the Canberra Yacht Club together with Alex & Leslie Maitland, Dave Chapman, Jose Obbens, and Janine & James Mahoney. We all enjoyed a meal, drinks and catching up. Lots of talk about how enjoyable the 2007 reunion was and how we all looked forward to another one sometime in the future.
July 2008
July 2008: Get-together being organised for Sydney for mid-November
Colin Gellatly
9th June 2008:
Colin Gellatly made a recipient of Officer of the Order of Australia (OA) in the Honours List awarded on the 9th of June.
"Dr Colin Gellatly, Hunters Hill, NSW. Service to the community as a leader in policy reform and administration in the NSW public sector, particularly through the coordination of the whole-of-government program initiatives."
4th March 2008:
Gabrielle Kibble AO, Dr Colin Gellatly and Robert McGregor AM were appointed as the Administrators of Wollongong City Council. The Administrators undertake the role previously performed by the Lord Mayor and elected Councillors. The Administrators will carry out this function until local government elections are held in 2012.
Evan Williams
30th April 2008:
Evan Williams has been appointed Australia's new High Commissioner to Cyprus. Minister's press release
There is a long article on Cyprus in the most recent London Review of Books. It's at http://www.lrb.co.uk/v30/n08/ande01_.html

Evan Williams Farewell
31st May 2008, Canberra
To farewell Evan Williams on his appointment as High Commissioner to Cyprus
Derric Wagstaff, Evan Williams, Janine & Lesley Grimley.
... This was intended to be a larger gathering and the subject of some email and online debate
Colleen McCann in Penrith
19th January 2008
At the Log Cabin, Penrith
A get-together in Penrith on Friday night the 19th of January with Colleen McCann, her husband, Toni, Damian and Bernadette, Jose and David, and James and Janine Mahoney.
2007 get-together
We decided to organise, with as little effort from us as possible, a get-together in Sydney as close to the date of the full reunion of 2007, in November. After some debate, with Col losing all credibility after suggesting the Coogee Bay Hotel at the time they were caught cooking up things that you'd not want to know you're eating, Dave Chapman suggested The Commodore in North Sydney because there's parking, if you're quick, and it's easy for people like me who rely on airports and city hotels, to get to. From the Russell Hotel in the Rocks (and how many Sydney taxi-drivers don't know of The Russell?) I'd planned to walk to North Sydney, but after a sentimental journey around bits of Sydney I'd not seen in years, I left it too late and took a taxi to North Sydney.
Damian arrived not long after I got there and then in fairly quick succession, (and in no order) Col, Chris (Dos) & Kevin Burrows, Narelle, Dave Chapman, Ross Birney & Bill Bunting. Carol (Isaacs) couldn't make it as she had last-minute family problems to sort out.
A fair bit of chat followed over food and wine and beer. Things were recalled that I'd remembered about some of them that they had forgotten about or pretended to; a toast given to Col on his AO and eventually people wandered off leaving David & myself as the last remaining.
After that back it was back to the Hotel for me and then a night in the city for me.
The promise of lunch with Greg Mackay & Dave Chapman on the Sunday didn't happen as Greg maintains that he (now) needs longer to recover (from his nights out) these days.
Definitely, though, a model for following years - same place, same date (closest weekend) - with whoever can make it, makes it.

Regular meet-ups in Sydney
December 2nd 2007:
Col Gellatly will be organising yearly or twice-a-year meet-ups in Sydney;
The 2007 reunion photosare put onto the website;
Write-up on Elli Shibata;

2007 reunion
At the 2007 reunion, Fairmont Resort, November 2007:
Margaret Bennett (Salvaneschi) and Victor;
Dawn Bignell (Alston) and David;
Ross Birney and Jean Seddon;
Janet Bowman (Ineson);
David Brown;
Narelle Brownjohn (Anderson);
Bill Bunting;
Cathy Burrowes;
Maureen Cardwell (Fisher);
Stephen Catto;
David Chapman
Colleen Chick (Loveridge) and Trev;
Peter Clark;
Jim Craib and Wendy
Annie Donnelly (Zon)
Chris dos Remedios (Burrows);
Hans Drieslma and Nanette (Griffin)
Keith and Ineke Duncan;
Alan Dunn and Christina;
Lionel Etheridge;
Kerry Fair and Terry Welsh;
Frank Ficyk;
Ron Gardner;
Warren Gee;
Col Gellatly;
Lorraine Gillies (Graham);
Damian Grace & Bernadette Grace;
Sue Greaves and Michael Brown;
Lesley Grimley (Maitlaind) and Alex ;
Bev Halls (Clark)
Margaret Henderson (French) and Sid
Janine Hitchens (Mahoney) and James;
John and Margie Holmes;
Paul Horne;
Michael Jensen and Priya;
Ron Lawler;
David and Fife Lawson
Pam Loveday (Tomiczek);
Robert Lockley and Gayle;
Wendy Masters (Bugeja) and Peter;
Mark Michael;
Reg McFarlane & Penney McFarlane;
Greg and Jill Mackay;
Sam McKay (Greenwell);
Paul McPhee and Dorne;
Kim and Di Murphy
Ken Newton and Janice;
Don Nicholson;
Jose Obbens & David Ford (Jose's partner);
Pat O'Connell and Irene;
Mary Patty (Richardson);
Carol Pereira (Isaacs) and Phill;
Greg Pullinger;
Janet Richardson (Grant) and Denis;
Lance Robertson;
Robyn Simpson (Thruchly);
Christine Simpson (Wright);
Campbell and Kris Thomas
Mike Vale and Trish Carroll;
Hilda Ventrillon (Morison) and John;
Derric and Jan Wagstaff;
Evan Williams;
Geoff Williams;
Greg Woodward and Sue;
Eddy Young
Teachers: Nigel and Jacquie Hastings, Inta and Derek Long; Lee Bedford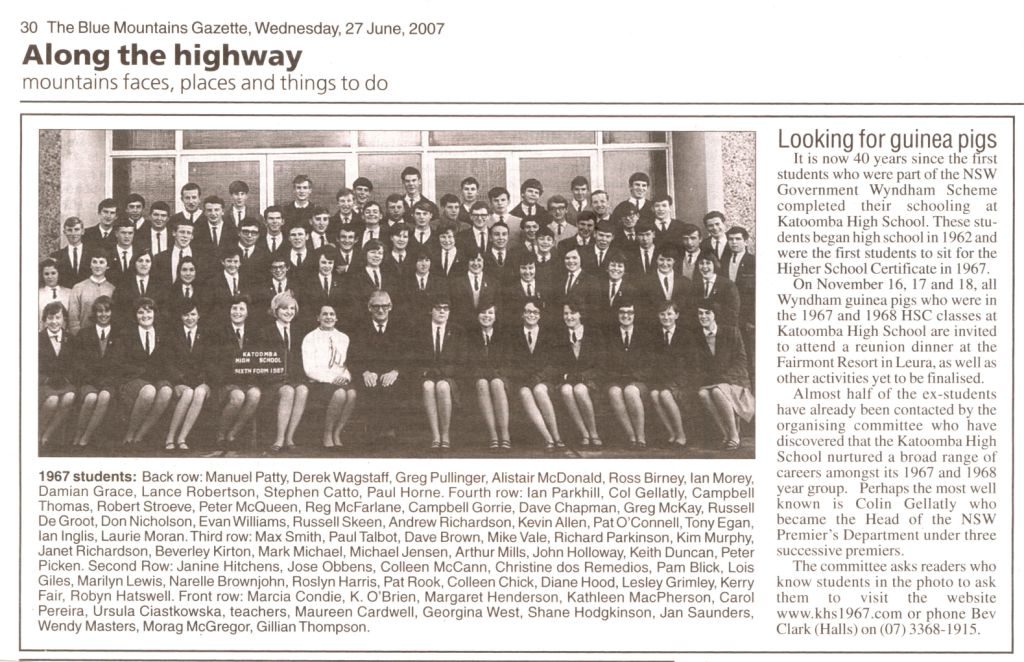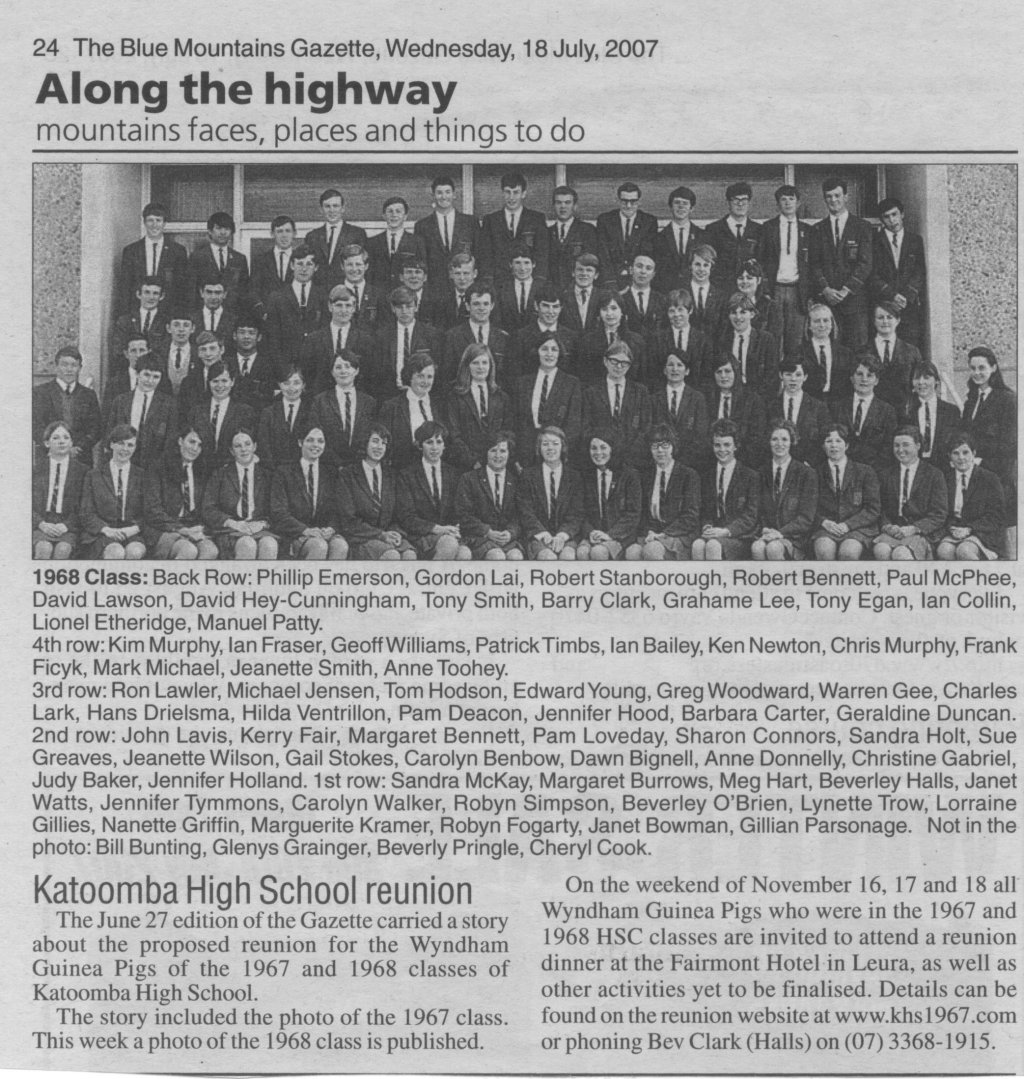 Monday 17th September 2007, The Daily Telegraph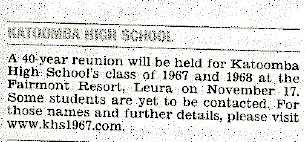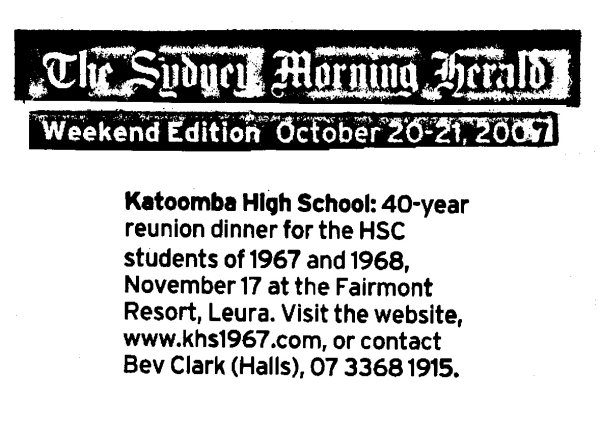 Saturday night 17th November
Below is our running order for the night. It's a plan only.

6.00-6.45pm: Pre-dinner drinks, nibblies, informal;
6.45-7.00: Highlights of the last 40 years, etc.;
7.00-7.30: Main course;
7.30-7.45: Remembering those who have died - eulogies;
7.45-8.00: Awards, other, dessert;
8.00-8.15: Finish up and reminders about Sunday, etc.;
8.15 onwards: music and dancing, at the bar;
Midnight: Room closes;
Kick on for those up to it.
last updated 20th October
Plans for the weekend
For those drifting in over the Friday night we're avoiding organising anything but instead relying on whatever seems like a good thing to do at the time. For those up to it, maybe we check out the town, do a bit of a sentimental journey, hit a few pubs - no idea. But if we're not visibly at the Fairmont, if you're arriving there, I suggest you ring one of us on our mobiles to get the current status of who's doing what. For the Saturday, some people want to get together on the golf-course, some want to do a bush-walk - but whatever the activity the idea is that people will get together and socialise. Janine is the one with the ideas on that, so she'd be the best one to contact. This is all informal, but things will be happening.
Saturday:
Golf;
David Chapman is organising a golfing session along with Col Gellatly. So far the players are Tunku, Col, John Holmes & David. David has made a booking in his name for 8 players at 12:40 and 12:50 at Leura Golf Club - these are the first groups after the Saturday Members Competition. Green Fees are $40-they need to know if anyone needs "equipment" such as hire clubs/motorised buggies etc. (David Chapman m: +61 (0) 418 165 234, e: davidcha@bigpond.net.au)
Bushwalk:
For those of a more sensible disposition, and if the weather isn't too hot we plan to go bushwalking, great for city-dwellers, on the Saturday morning before breakfast and/or at 10am for those wanting to go later. Slackers would be interested in 10am as may be anyone else arriving on the Saturday, or staying other than at The Fairmont. If it is really HOT we can do an alternative plan on the day.
9.30am Bushwalk
Carol Isaacs (Pereira) Email : carofe@bigpond.net.au
"The bushwalk has a few takers already but room for more. Sorry about the limit on numbers but I think 20 is way big enough for a group of walkers.
I plan to go to Lockley's Pylon, north of Leura, but if its really hot we can change to somewhere cooler (but with more steps 'cause it will be down deeper).
"Lockleys Pylon is a return trip of about 7km, with no big hills to climb and on a track. Its not a footpath but its not hard either. Great views and the more adventurous can go a little further, to Du Fuars Head, looking down onto Blue Gum Forest.
I think we should meet at 9.30 am at the turning bay outside Leura Primary School in Mount Hay Rd and hopefully car pool from there (or the Fairmont).
For those who haven't been to the mountains for a while, the turnoff to Mount Hay Rd from the Highway has changed substantially. Have a look at a street directory or allow a few extra minutes to find the way.
The road to the start of the walk is dirt for the last 12 km with a steep hill or two but you don't need 4WD. I'll cancel the trip if it looks like rain.
"People will need suitable walking shoes (but boots not necessary) and a small backpack to carry lunch, snacks and water for the day, parka, jumper, hat and sunscreen and any personal medication.
I'll take a first aid kit but another one or two in the party wouldn't hurt.
I'm still a Luddite without a mobile phone but husband Phill's mobile is 0408 966 173 if it is needed on the day."
.... Carol
10.00am Bushwalk
Easy bush walk near Fairmont Resort. Back for lunch
Meet Bev at Fairmont Resort approx 10.00am
Mobile: 0413 101 960

Otherwise:
Otherwise, Kerry Fair and Janine are meeting for a discussion about old-times around 2.00pm in the Fairmont lobby. And from there we may also go to Katoomba Street for a memory walk.
Best to check the notice board near reception at the Fairmont for any news.
Saturday evening:
On the evening, we suggest you get there around 6.00-6.30pm and meet up with everyone. The buffet starts at 7.00-7.30pm, so there'll be some microphone-talk from people before we eat and in between courses. The microphone will be, mercifully, used sparingly to leave more time for people to mingle or, if you're so inclined, receive minglers. At around 8.15-8.30pm, we'll wind it up for some music, which will be the cue for some to dance and for others to head to the bar, or a combination of both. We hope to keep it as informal as possible so that people can get as much out of it themselves as possible. The bar closes at midnight.
Sunday:

On the Sunday it'll be a sentimental journey back to Katoomba High followed by some things in the town, depending on numbers.
The school visit to KHS is at 10.45AM, Martin St Katoomba, not that anyone is likely to have forgotten how to get there! We've been advised to all assemble at the school gate no later than 10.45. Latecomers will miss out, and we wouldn't like that to happen! The visit will take in the present school and with an opportunity to view some of the school's memorabilia and archive material. Any enquiries, please contact Bev on 0413 101 960. Cathy Clark, Bev's sister-in-law and a recent teacher at KHS, will be our tour guide, so all will be fine.
Sunday night, for those still remaining, will have to be a decision made at the time.
We need volunteers to do write-ups, and optionally talk on, those of us who've died since leaving school. Please contact any of us on the contacts page if you want to do it.
Katoomba High School Reunion details
The organisers for the KHS reunion have come to a key stage in which we require a final commitment from you as to whether you wish to attend on 15 November. This is a requirement due to the venue's cancellation policy. Some of our classmates have indicated that they wish to bring partners to the reunion and some prefer not to do so. At this stage, it appears to be around the 50/50 ratio, so all partners are most welcome.
Meet-up in Melbourne
Meet-up in Melbourne of Paul Horne, Alistair McDonald & Lance Robertson
2007 Before the November 2007 Reunion
We'd exchanged emails during the week and decided on meeting up at the Hawthorn pub, near to where Alistair lives.
Lance seemed to know it quite well, although not knowing the barmaids by first name, their ages and broad social interests. counts against that to my mind, but that's just me.
I took a tram heading broadly in that direction and then began what turned out to be no more than a 15-minute walk.
There was a hope, a vague one though in a solidly-blinkered footy-state, that the Wallabies v Wales match would be on the big screen.
In fact it was Collingwood vs something else on the big screen and the Rugby on an adjacent but smaller screen.
Lance had bumped into Alistair some years before when Lance was frying up snags for the Scouts - 'I know you' - but they failed to make anything more of it.
Alistair has changed very little, just Alistair 40 years on.
The same habit of leaning back on his feet occasionally when he talks, the same voice, same chuckle and
still as lean now as he was then.
Lance, again, little changed, just 40 years on.
Both sporting annoyingly juvenile heads of hair.
One of the first things Alistair says, to me, is 'where's your hair?'.
Fair enough.
They both proceed to drink Hahn Lights while I tuck into a run of Becks and then when we're forced by the Saturday night house-music crowd to move to a semi-deserted, but quieter drinking hole further up Burwood Road, a healthy run of Coopers'.
There's a lot of reminiscing and catching-up, the odd bit of scandal. A lot of 'what happened to?'
A few 'I never knew that' from me, as I'm starting to realise how much I didn't listen, or wasn't told, at school.
I'm told I swear too much, which is true, but I'd have expected from them an allowance for the higher alcohol content of mine versus thiers, but absolutely no generosity at all from either of them.
The evening seemed to disappear and getting close to midnight we left the pub, to the sound of the barman locking up behind us.
We talk of meeting up again.
Alistair walks home, I grab a passing taxi and Lance drives back to Camberwell.
A good night.

... ph
Elli Shibata
In 2002/2003 I was exchanging emails with Elli Shibata who you may all remember as the Japanese exchange student who was a few years above us at school and was photographed there for the Mountain Gazette one day in her kimono.
She went back to Japan, was educated further in an American international school and went on to university in Tokyo (from memory, I've lost some of her earlier emails).
Back then, when we were communicating, she was working as an account manager signing up international entertainment talent and worked a lot in London and New York, although she was nominally based in Tokyo.
She sent me her photo. Then when I sent her one of me, we lost contact, which I'm hoping was just a coincidence.
She managed Faye Wong, who is very big in China.
... Paul Horne
Not long after writing about Elli I was looking through one of Campbell Thomas' copies of Outlook and in the 1964 edition is the two-page write up by Elli, or Deko, as she was known by then: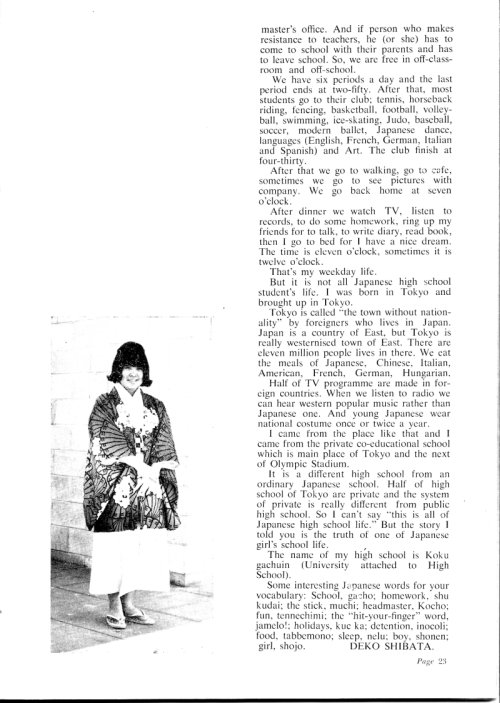 And this is a picture of Elli in 2002: